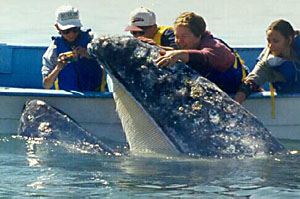 Smiling whale in Scammon's Lagoon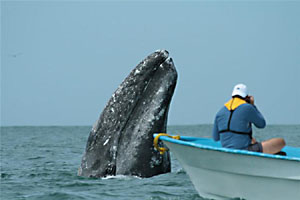 Curious Whale Takes a Look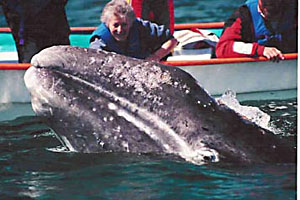 Whale watching at its best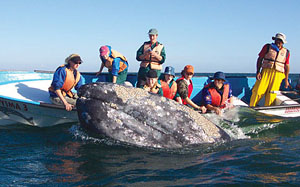 The Friendliest Whale Scammon's Lagoon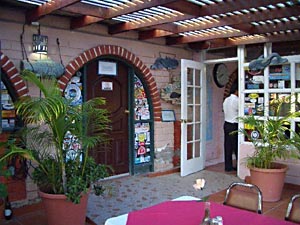 Your hotel In Guerrero Negro



Your room in Guerrero Negro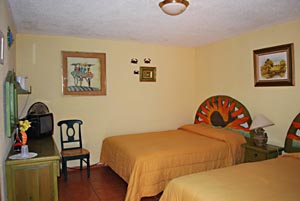 Clean & cozy double room - Guerrero Negro


2023 TRIP DATES:

Jan.24-26, Jan.25-27, Jan.29, Jan.28-30 Jan.30-Feb.1 Jan.31-Feb.1
Jan.30-Feb.1, Feb.2-4, Feb.3-5, Feb.5-7, Feb.5-12, Feb.6-8, Feb.8-10
Feb.9-11, Feb.11-13, Feb.12-14, Feb.14-16, Feb.15-17, Feb.17-19
Feb.18-20, Feb.20-22, Feb.24-26, Feb.26-28, Feb.26-28
Mar.1-3, Mar.2-4, Mar.4-6, Mar.5-7, Mar.7-9, Mar.8-10, Mar.10-12
Mar.11-13, Mar.13-14, Mar.14-16, Mar.17-19, Mar.19-21, Mar.20-22
Mar.22-24, Mar.23-25, Mar.25-27, Mar.26-28, Mar.28-30, Mar.29-31
Mar.31-2, Apr.1-3, Apr.3-5, Apr.4-6, Apr.6-8, Apr.7-9, Apr.9-11


Please pick any date within that time frame and e-mail us for availability.

NOTE: An English speaking, U.S. private guide will meet you in Guerrero Negro and accompany you during the entire trip.


Scammon's Lagoon, Fully-Guided (self drive): $975 ea.
(3 days, 2 nights hotel, 2 days whale watching; Single Supl. $150)

INCLUDES: English-speaking guide, motor-boat & operator, transportation from Guerrero Negro to the lagoon, two hotel nights in Baja (dbl. ocp.). One whale watching excursion on day 2, and one whale watching excursion on day 3.

DOES NOT INCLUDE: Transportation from the US to Guerrero Negro (airfare or car rental), meals at restaurants, personal items.

Click here to see the (self drive) itinerary.

TRIP DESCRIPTION: The Scammons Lagoon (self-drive) whale watching tour will begin/depart from Guerrero Negro, Baja. A shuttle will take our group from the hotel to the lagoon (half hour ride), where we will board the open deck motorboats.
Your tour will take you to the key areas of the lagoon, where there will be abundant encounters of mother Gray whales (cows) with newborn babies (calves).
During the two days you will whale watch for a total of about five hours (three hours on day one and two hours on day two).
Please note that getting from the U.S. to Guerrero Negro is participantís responsibility, and we are happy to provide suggestions and information about the available options.

THE WHALES, especially the babies (called calves), are curious and very friendly creatures.
On numerous occasions the cows gently push their calves towards our boats, seemingly to introduce them.
Once contact is established, the calves enjoy interacting with people, nudging the boat and popping their head out of the water, allowing the stretched hands to touch and caress.
All this happens while the mother lazily and unconcerned, suns herself around the boat. Sometimes the mother herself comes close to get some attention.
Itís truly amazing. One may be concerned about their shear size (up to 45 feet) but they are incredibly gentle and aware of their surroundings.

THE BOATS: On these whale watching Baja tours we will use 24 ft., well maintained, open-deck motorboats
The size of the boats is ideal for the needed mobility, unobstructed view, and closeness to the water - essential for the quality of this activity.
Each boat has four sitting benches, accommodating three passengers per bench.
You can expect 10-12 people on the boat per trip.
Life Preservers will be supplied and are mandatory while on the water.
Your professional boat operator will be in permanent contact with your accompanying private guide, and with the shore-base via VHF radio.

GETTING TO GUERRERO NEGRO: Guerrero Negro is not the most convenient destination to reach. However, taking a commercial flight to Loreto, (Baja-Mexico), will make the experience more acceptable. Once in Loreto, you can rent a car at the airport and drive to Guerrero Negro (5 hours). This is by far faster and more comfortable than the drive from San Diego (12 hours).

1) Flying from Los Angeles (LAX) to Loreto (LTO): Alaska Airlines offers direct flights between Los Angeles and Loreto (2 hours). Although these flights are convenient, they tend to be pricey at the top of the season ($550-$600 ea.)
Note: Alaska only flies 4 days per week, and one flight per day.
Reserving early will not only make a significant difference in cost but, will guarrantee you a seat on the plane.

2) Flying from San Diego (Otay Mesa) / Tijuana (Mexico) to Loreto (LTO): Aero Calafia is a Mexican, commercial airline, offering direct flights from the Tijuana Airport to Loreto. Their aircraft are maintained to international standards and their flights are significantly cheaper. They fly: Tuesdays, Thursdays, Fridays, & Sundays: Round-Trip, Tijuana to Loreto is about $260.
(Their web site prices are in Mexican Pesos so, divide that amount by the exchange rate to get the price in US $$)
www.calafiaairlines.com
To get to the Tijuana airport: From the San Diego Airport, you can take an Uber, Shuttle or, Taxi (half hour ride) to the new Cross-Border Express (CBX) facility in Otay Mesa Ė California (on the US side of the border).
The CBX facility is attached to the Tijuana airport (on the other side of the border) via the CBX Sky bridge.
Youíll walk through the CBX Sky bridge, right to the Aero Calafia terminal in the Tijuana International Airport.
Only airline ticket holders are allowed to use the CBX Sky bridge.
www.crossborderxpress.com

For further assistance with air travel arrangements, contact our agent, Leslie Wahlgren at Kahala Travel in San Diego:
Phone number: (619) 282 8300 ext. 232

3) Driving From San Diego To Guerrero Negro: If time is not an issue, and especialy if you live in Southern California, you can drive your own vehicle to Guerrero Negro.
Note: We can provide you with insurance companies who will fully cover your personal vehicle for driving it into Baja.

Although it's a lengthy drive (about 12 hours), splitting it into two days will make the experience more comfortable. A midsize sedan is well suited for the Hwy Mex 1. The road is paved all the way to Cabo San Lucas, and it's virtually impossible to get lost.

Or, if you'd rather drive a rentalal car, we can provide you with contacts for Car Rental companies in San Diego who allow their vehicles to be driven into Baja and provide insurance.
While you are away on the tour, the vehicles will be parked at the private hotel where you will stay, and will be absolutely safe.